2023-05-08, updated: 2023-05-13
After working on 3.0.0 for approximately two years, it is finally here.
Happy Hacking :-)
Obligatory screenshots: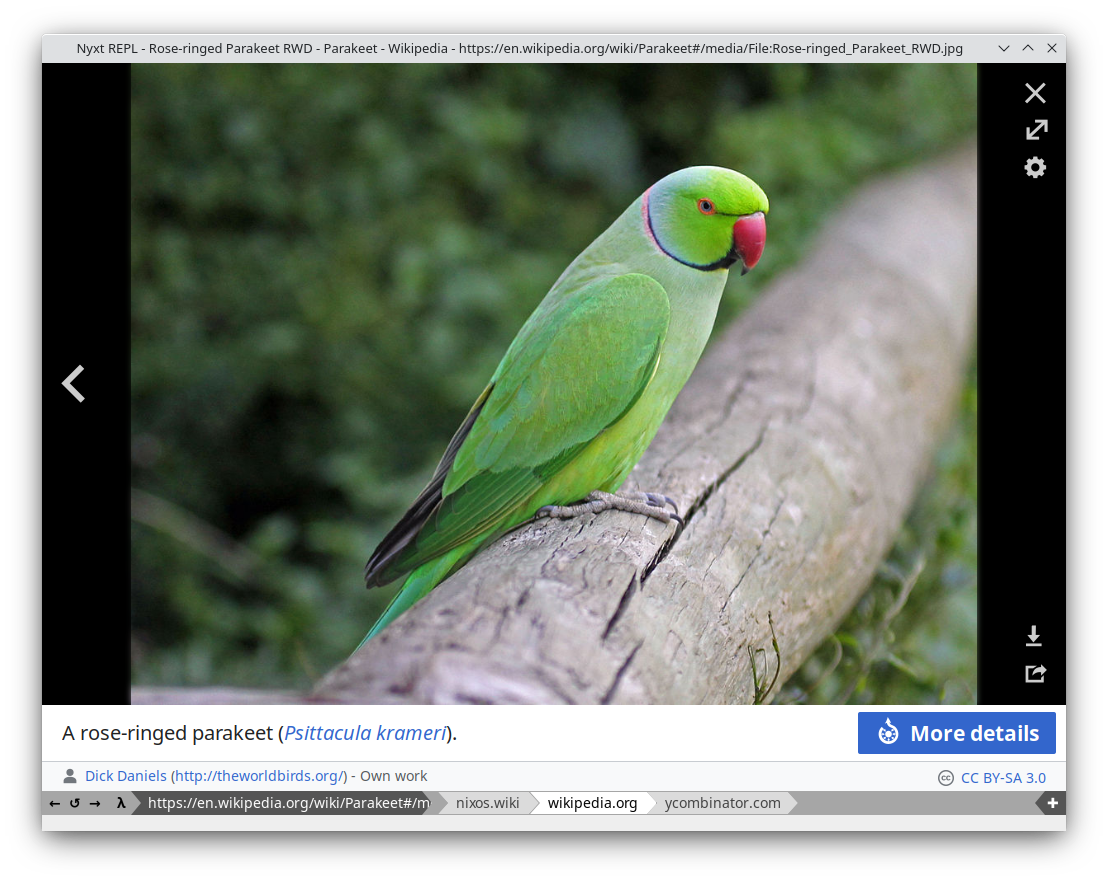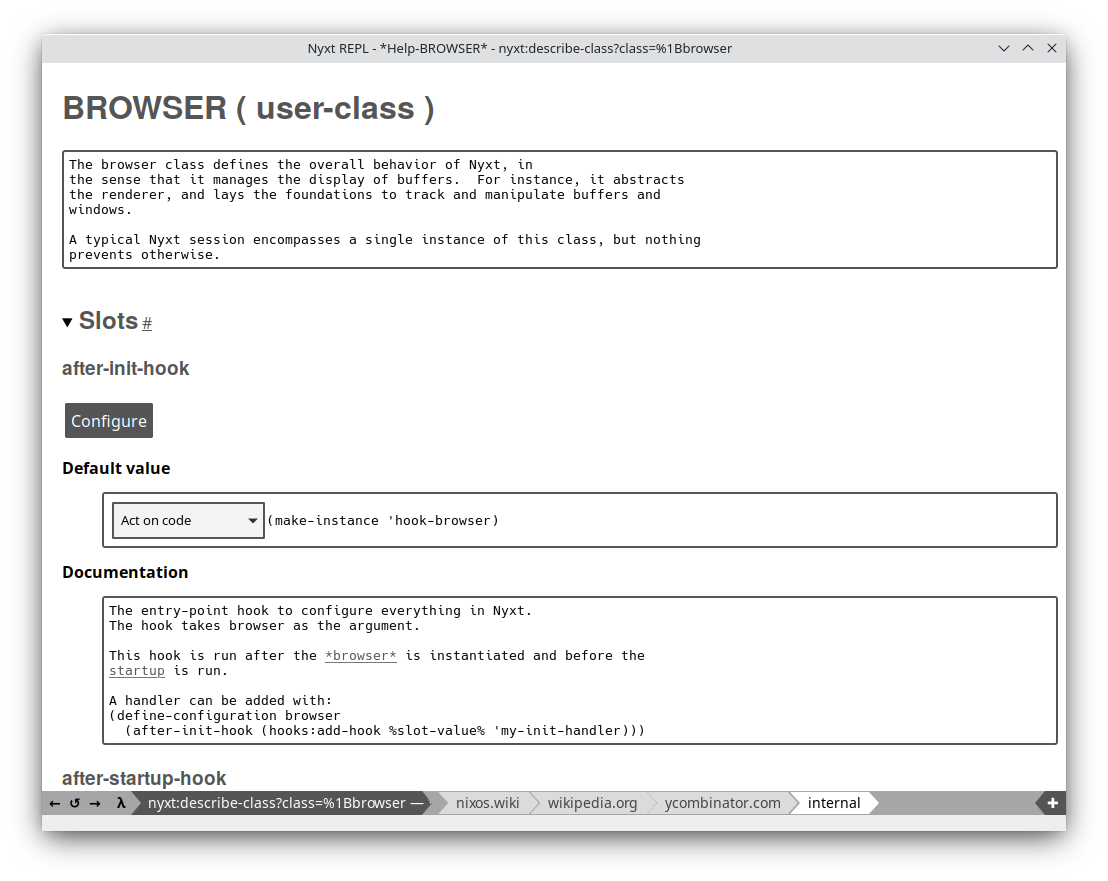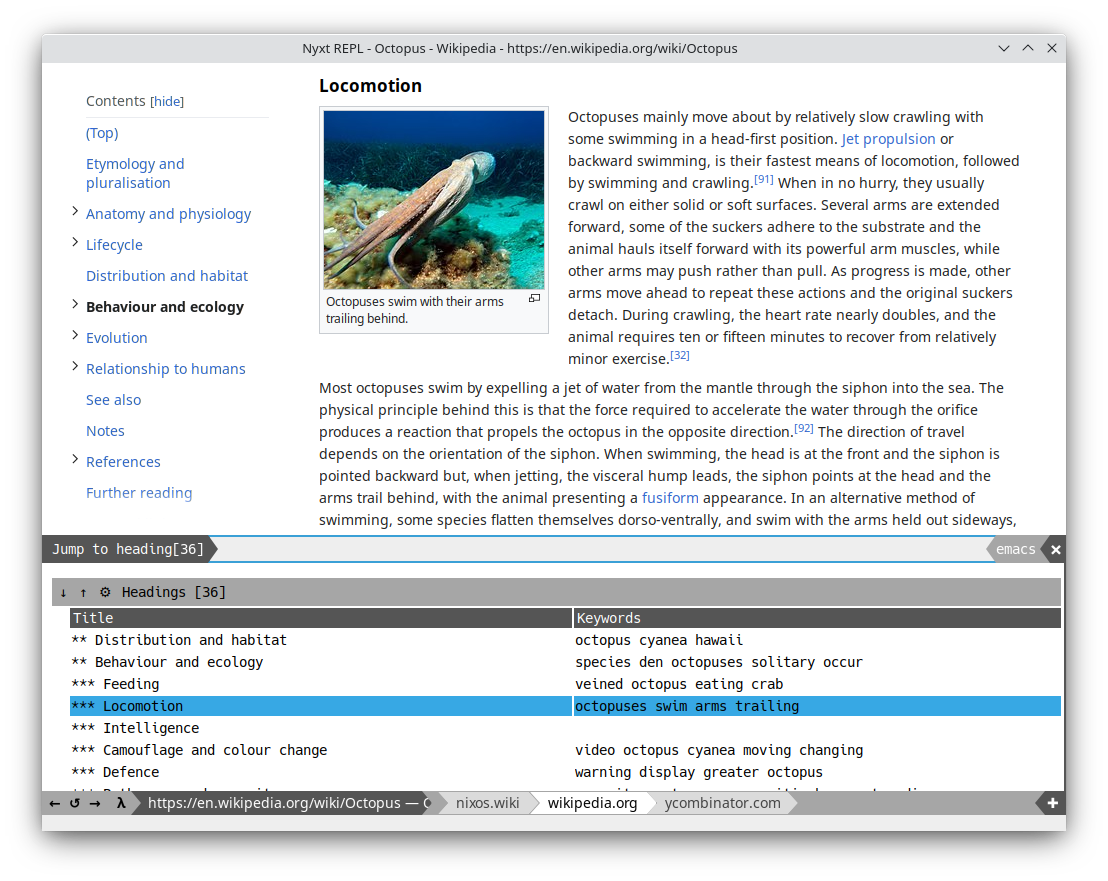 Note: many of the links below are designed to be opened in Nyxt.
Add Flatpak build.
New migration-guide command to help the user migrate their configuration between major version releases. Migration suggestions are automatically given on startup error.
The auto-config file is now suffixed with the major version number. This means that upgrading Nyxt to a new major version will ignore the previous auto-configuration (which probably wouldn't work anyways).
UserScript support (such as GreaseMonkey scripts).
Prompt buffer updated for intuitive matching with new algorithms and settings.
Revamp status buffer design for increased readability and aesthetics. Make it fully customizable with format-status framework.
Status buffer placement can be changed with status-buffer-position (thanks to @mianmoreno)
Most help pages, including the manual are more readable and interactive.
Add support for the Gopher and Gemini protocols.
Headless mode available through --headless CLI switch. Config file (--config ) becomes the script to run in the headless instance on Nyxt.
Color-picker support when native-dialogs are on.
New hinting-type setting to configure one's favorite link hints style (Vimium-style vs. body-matching prompts). Thanks to @heiwiper!
Hinting now highlights hints by dimming the matched characters (thanks to @heiwiper!)
Session is restored on startup by default. Slot session-restore-prompt has been replaced by restore-session-on-startup-p , a boolean.
reduce-tracking-mode clears widely known tracking query parameters.
Add a %slot-value% value to define-configuration to allow configuration to compose from different define-configuration forms.
execute-command ( C-space ) evaluates arbitrary Lisp code and provides inline documentation for symbols.
New prediction capabilities. Nyxt can now predict your next command, it will show up automatically in the execute-command menu. Nyxt uses a stochastic model to generate predictions for what your next command will be. The model is stored locally and is cleared after every session.
Support for key files and Yubikey locking in KeePassXC password interface.
History globality can be set on a per-buffer basis. See the global-history-p .
backtrack-to-hubs-p allows to revisit the "hub" URLs you often visit, instead of adding them to history anew.
When started with --remote and without --quit , Nyxt now reads s-expression from standard input and sends it to the remote process. This avoids the performance penalty of a new process startup on each iteration.
define-configuration automatically resolves class names and slot names even without package prefix. For instance :style-mode -> nyxt/mode/style:style-mode .
Keybindings are also resolved to existing commands when necessary. For instance :jump-to-heading -> nyxt/mode/document:jump-to-heading .
after-init-hook and after-startup-hook are browser slots, instead of the global variables they used to be.
Universal describe-* commands have been replaced with new sources for the regular commands, such as function-non-nyxt-source , function-internal-source and so on.
With dynamic-attribute-width-p on, prompt buffer attribute columns adjust to their content, allowing for a better overview of lengthy attributes.
Search engines are now listed with their full name (when available).
Internal buffers/pages are now rendered in the status area as internal .

Prompt buffer improvements

#

auto-mode is incorporated into Nyxt core, with its settings residing in modable-buffer .

The new apply-all-matching-auto-rules-p allows you to apply all the matching auto-rules instead of the most specific one.
There are default rules for Gopher, Gemini, and Nyxt-internal-pages.
The rules file is now moved toauto-rules.lisp (instead of the old auto-mode-rules.lisp ).

Major search-buffer-mode refactor. The new implementation is more accurate and more flexible, as it allows manipulating matches as Lisp objects.
Major improvement of editor-mode .

Move the prompter library to a separate repository.
Some of the Nyxt-internal logic was abstracted into separate libraries/systems:

define-class macro — to nclasses .
Portable GUI-friendly debugger — to ndebug .
JSON parsing — to njson .
Symbol search and listing — to nsymbols .

Move lisp-system to separate repository as extension. The functions list-system and load-system are no longer available.
Move os-package-manager-mode to separate repository as extension.
diff-mode has been removed.

Lisp code run with the --script or --eval command line arguments now defaults to the nyxt-user package.
Various spell-check-mode fixes. (Thanks to @hendursaga!)
All copying and pasting commands populate clipboard-ring reliably, thus fixing the paste-from-clipboard-ring ( M-v ) command.
Fix touchscreen gestures for VI mode.
Fix processing via relative paths when opening files.
Fix buffer re-attachment from the deleted window.
Fix history-backwards ( UNBOUND ) by gracefully handling pages that are not yet done loading.
Fix full-screening event handling — status buffer no longer goes off-sync with the full-screened page/video.
Startup is more robust against corrupted history files.
VI insert mode is triggered in more cases where it should be triggered.
Invoke the right WebKit command when cutting text with ffi-buffer-cut .
Fix the display of history suggestions when going forward in history.
Security: all the non-ASCII domain names are shown as IDN punycodes in addition to aesthetic display in the status buffer.
The canceled page requests are stored to history, making it more consistent.
Extensions directory is more carefully checked to avoid crashes.
Trying to delete a hanged buffer destroys it, instead of leaving it dangling forever.
Switching focus away from Nyxt doesn't make it unfullscreen anymore (thanks to @shaunsingh!)
Numerous documentation and functionality fixes thanks to @shamazmazum, @hendursaga, @Gavinok, @mianmoreno, @edgar-vincent, @K1D77A, @kchanqvq, @tiberious726, @createyourpersonalaccount, @khinsen, @aaron-tan, @chrisboeg, @taiju, @odanoburu, @wasamasa, @fabian-thomas, @shakatoday, @grawlinson, @kenranunderscore, @Uthar, @e0a6, @comradekingu, @whirm, and others!

Internal pages are now using the nyxt URL scheme. They support the lisp protocol to allow evaluating arbitrary Lisp, for instance from a button click. Internal pages also have a URL now, which means they have history support.
New define-internal-page-command and define-internal-page-command-global helpers to define internal pages.
define-panel-command and define-panel-command-global helpers to define new panels.
New define-internal-scheme helper to define custom schemes.
Nyxt-native debugger available via toggle-debug-on-error ( UNBOUND ) .
Better Lisp values inspection in describe-* commands and repl ( UNBOUND ) , extensible through value->html methods.
Universaldescribe-* commands describing things in any Nyxt-accessible package. Available via C-h u key prefix.
after-startup-hook to attach headless mode actions or configuration to.
Thread name is now mandatory in run-thread .
New nyxt-unstable *features* when built from source on an untagged commit. A feature with the commit is also added.
New prompt1 helper.
New theme library.
Input processing is now easier to customize with command-dispatcher and input-skip-dispatcher .
Rename buffer slot load-status to status .
The core nyxt packages are now locked to prevent against accidental clobbering from the user side.
New ffi-buffer-load-html and ffi-buffer-load-alternate-html . This is useful to set the buffer content without resorting to expensive JavaScript calls.
Removed clipboard-text since it's redundant with ffi-buffer-copy .
General purpose helpers can be found in the nyxt/utilities package.
New nxref Spinneret tag for cross-referencing.
if-confirm now allows configuring its yes/no options and can return booleans.
Move download hooks to download enabling proper typing and adding handlers to them.
Spinneret tags like :nxref , :nbutton , :ninput , :nselect , :ncode , :nsection , :ntoc for better help pages markup enhanced by the compiler data.
All mode packages have been renamed to nyxt/mode/mode-name .
Renderers are now first class objects, see the renderer class. It's possible to change renderer from a same REPL session.
set-url ( C-l ) and set-url-new-buffer ( M-l ) accept the :URL keyword argument and load it when provided.
New ffi-height and ffi-width methods to unify most of the height & width methods used before.
Generate methods instead of functions in define-parenscript and define-parenscript-async to ease hooking into those with, for example, :around methods.
Allow the command argument to ffi-add-context-menu-command to be an arbitrary function.
New package nicknames:

time for local-time
types for trivial-types
sym for nsymbols

The third value in the object-attributes attribute list is interpreted as display HTML for the suggestion. See the color-picker support as an example application for this feature.
New match-port URL designator predicate for auto-rules.
---
Did you enjoy this article? Register for our newsletter to receive the latest hacker news from the world of Lisp and browsers!
Maximum one email per month
Unsubscribe at any time
---